Herring, happy-go-lucky-synth-pop and now Döstädning. Or, "Death Cleaning". The zen-inducing practice of freeing yourself from all of your possessions before you pass away.
The idea that our belongings don't pass over with us may seem like a frightening concept to some. A bleak reminder of the emptiness of existence. To others, the feeling that you won't have to look after anything (or do anything) may come as a relief.
The reality of the situation is this: When you pass away, somebody has to sort through everything you own.
Giving a close friend or family member the task of rummaging through your life acquisitions may seem like a sentimental idea, but It is time consuming, stressful and puts incredible amounts of emotional strain on someone.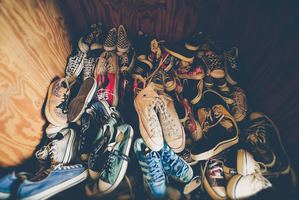 The Solution?
The other option is that you could always do it yourself. Why not? Who would be better to deal with a lifetimes worth of clutter than the one who acquired it? And who else to help you to do-it-yourself than the ones who put DIY on the map? "Döstädning" or "Death Cleaning" may seem strange to us but is an established practice in Sweden. 
Döstädning has recently gained new-found, international popularity thanks to the book "The Gentle Art of Swedish Death Cleaning" written by artist and author, Margareta Magnusson. Who is the current world expert on Döstädning – she literally wrote the book on it.
The idea of Döstädning is that it isn't fair to leave someone with a pile of belongings to sort out after you've died. As Margareta puts it so eloquently "You could die tomorrow, who's going to take care of all this crap?" Additionally, most people probably don't like the idea of their death being synonymous with a task as menial as sorting out a garage on a Sunday afternoon.
The philosophy
Although it shares similarities with other life-organising lifestyles such as the philosophies of Marie Condo. Margareta isn't telling you to burn your possessions or donate everything to charity. Margareta is talking about the things you don't need in your life.
Some items, however, are allowed. Margareta keeps a "throw-away box", a box full of personal mementoes, that no one need look in, and can be thrown away once you have passed. To some, this may seem like a rushed attempt to get a job over-and-done-with. But there is a fair amount of sentiment to the concept. She recommends giving things you no longer want to family and friends. That way you can see them enjoy it.
How to start
Downsizing for death can seem like a daunting task, but it needn't be. After a life spent accruing possessions, it will probably come as a relief to get rid of some of it.
Figure out what to get rid of
Döstädning asks us to question what we need to get rid of on a practicality basis. Is this something I use on a day-to-day basis? If not, it useful? Does it bring me happiness? Will it benefit my friends and family when I'm gone? If the answer is 'no' then its time to go!
Donate, recycle, re-sell
Throwing away isn't always the best solution when it comes to a death-cleanse. It isn't so much about ridding yourself of things as it is finding new homes for useful things that you have no need for.
Donate: These are thing
s that you don't need but someone else may get some use out of them. Many charities offer collection services, so you don't have to traipse down the street with a bin bag full of clothes.
Recycle: Old glassware, old magazines and plastic goods can all be recycled rather than thrown in the landfill. Also, certain medicines, crockery and electrical items can be recycled too. Here is a handy guide to help you out.
Re-sell: If something is too good to give away or be recycled then it's defiantly worth having a go at flogging it. A good place to start is eBay, but if you want to sell for a fixed price then its worth checking out sites like Depop.
"Death Cleaning" can also improve your quality of life before you pass. One may never think it worthwhile to sort through all that tat. It can seem depressing to the point of futile. However, thinking as a way to reorganise and reevaluate (and a possible excuse to redecorate) can turn it into a positive and necessary part of the life cycle. For many of us, these kinds of decisions only remind us of the transience of our lives, but they should be seen a form of permanent organisation, another step in planning for the inevitable
Books in this article – If you're interested in reading "The Gentle Art of Swedish Death Cleaning" by Margareta Magnusson you can find it here at Amazon.